AJA 3G-AM-XLR 3G-SDI 8-Channel AES Embedder/Disembedder, XLR breakout cable
€

1.299,48

Incl. btw€1.073,95 Excl. btw
Niet op voorraad, check levertijd

Registreer je in onze webshop. We controleren je gegevens en geven je toegang tot gepersonaliseerde kortingen. Crosspoint geeft je graag persoonlijk advies gebaseerd op meer dan 25 jaar ervaring. Bekijk ook andere converters in onze webshop.
Lees meer
ECO friendly webshop
Persoonlijk advies
25 jaar ervaring
Meer dan 4.000 producten
Secure payment
Registreer en ontdek je voordelen
---
Specificaties
Beschikbaarheid:
Niet op voorraad, check levertijd
Informatie
The 3G-AM is an 8-channel AES audio embedder/disembedder with support for 3G-SDI input and output up to 1080p 60. Audio disembedding is always functional, providing 4 AES outputs. Audio embedding is user selectable, on a channel pair basis, to either pass 3G-SDI input audio or to embed input AES audio from the breakout cable.
AES inputs are sample rate converted to a 48 KHz rate synchronous to the video input. The 3G-AM automatically detects and configures to the input video standard.
Features: 
3G-SDI embedder/disembedder
8-channel AES I/O
Supplied breakout cables for balanced AES - XLR connectors
USB connectivity via AJA Mini-Config software
Dipswitch configuration
+5-20VDC Power
Choice of Supplied Breakout Cable
Order 3GAM with either a XLR or BNC breakout cable.  
Specify 3G-AM-XLR for XLR connectivity or 3G-AM-BNC if you prefer BNC connectors for AES audio needs.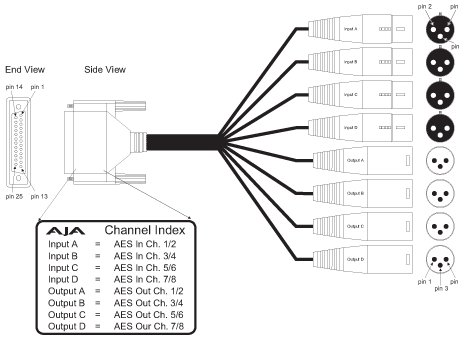 © Copyright 2023 Crosspoint