IBC 2023
IBC 2023 Highlights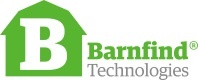 Designed to supplement the highly flexible BarnColor system, the new BarnColor 4xSFP-Flex provides 4 SFP transceiver cages on each unit and allows you to configure your BarnColor-Flex pairs with the signal processing SFPs needed for your unique application. Up to four different color units can be cascaded to each other; the system supports up to 16 transceiver cages on each side and allows the transport of 32 signal feeds; 16 feeds forward and 16 returns. Can be combined with any models in different colors.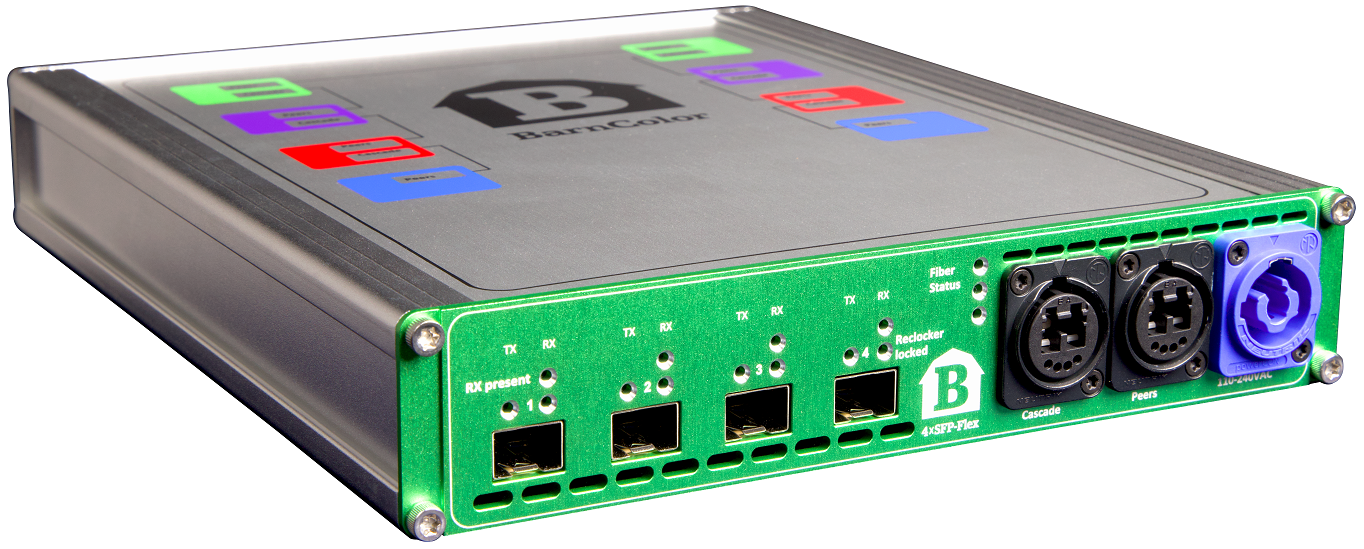 Blackmagic Design announced Blackmagic Videohub 80x80 12G, a larger 80x80 12G-SDI router that lets customers connect and route any combination of SD, HD and Ultra HD on the same router at the same time. Blackmagic Videohub 80x80 12G features a front panel with shortcut buttons, an LCD which can display labels or live video, a machined metal spin knob for browsing video sources, reference connections and redundant power. Blackmagic Videohub 80x80 12G will be available in November.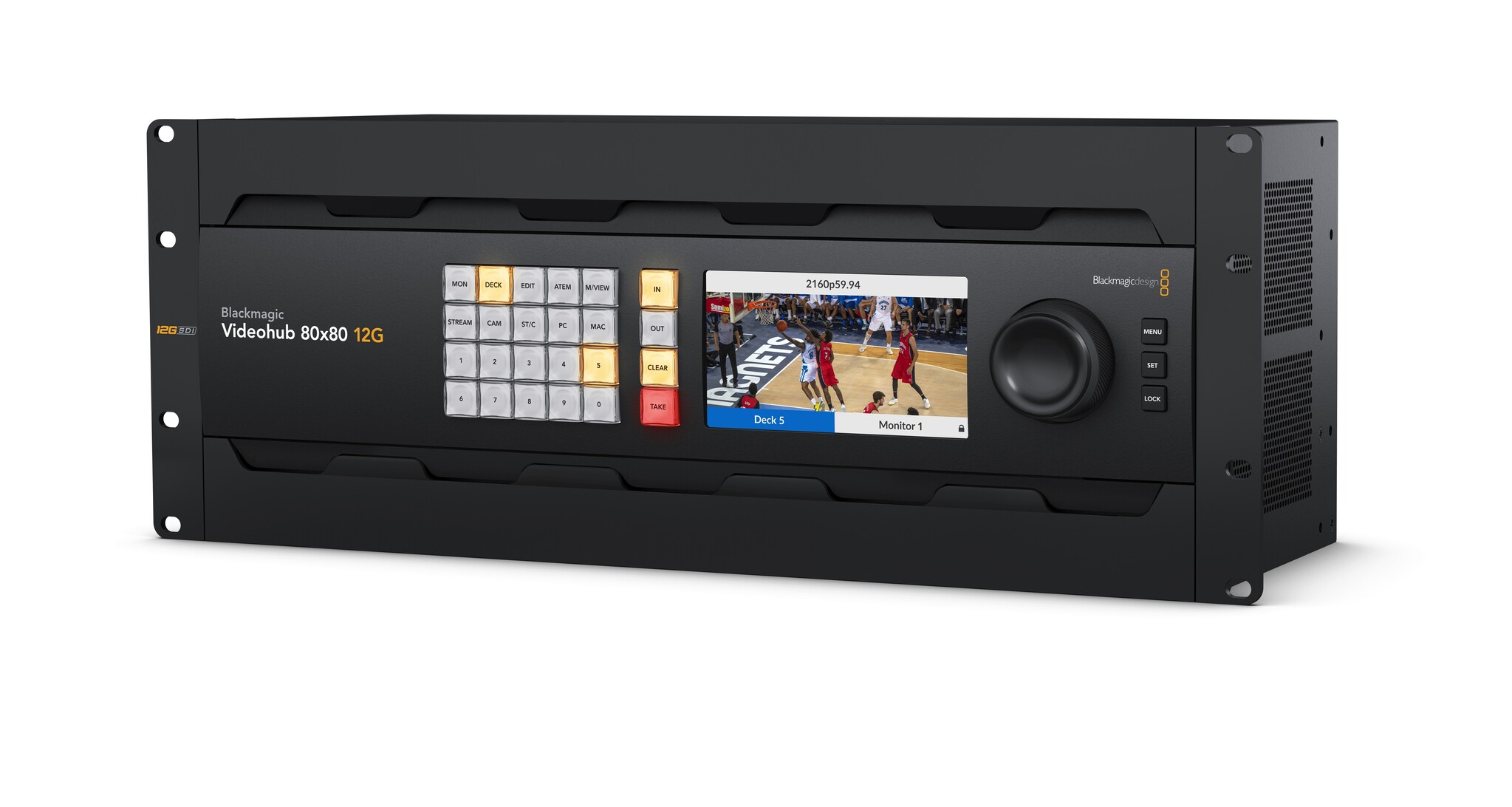 AJA is pleased to announce brand new Dante AV Ultra products for users wanting to utilize the latest AV over IP technology in a range of live settings, building on the proven and predictable Dante audio architecture that is embraced worldwide. Dante AV 4K-T and Dante AV 4K-R transmitters and receivers convert 12G-SDI and HDMI 2.0 to and from the Dante AV Ultra ecosystem, with bandwidth friendly 1GigE efficiency, and high quality JPEG 2000 support up to 4K 60p for low latency, synchronized video and audio for live concerts, commercial entities, education, HOW, broadcast Video over IP workflows and more.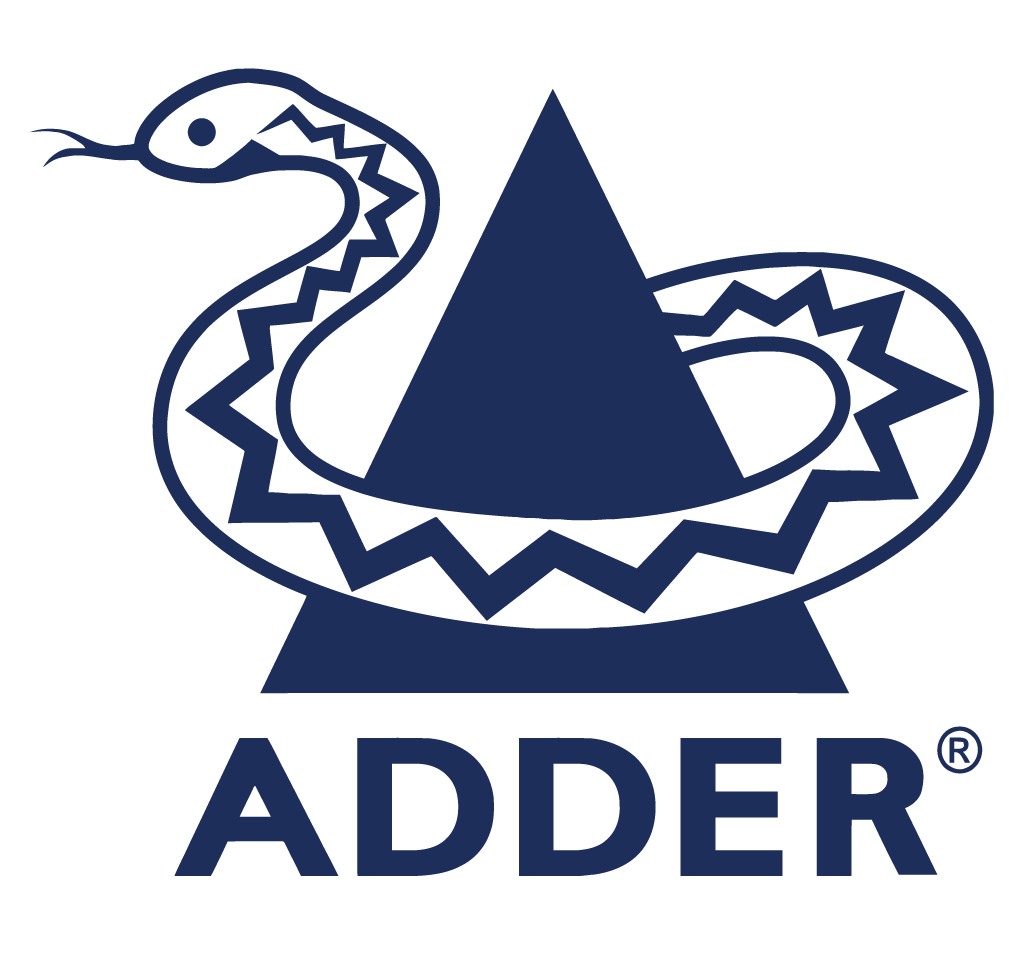 In the world of technology and innovation, accolades and awards often helps to validate a company's commitment to excellence. One such recognition recently made waves in the industry, as the ADDERLink INFINITY 3000 (ALIF3000), clinched the 'Best of Show IBC 2023' award. This achievement is a testament to Adder Technology's relentless pursuit of excellence and innovation in the field of connectivity solutions. The 'Best of Show IBC 2023' award celebrates products that redefine the industry's standards and pave the way for a brighter, more efficient future. The ALIF3000 adds virtualization capability to the ADDERLink INFINITY product lineup. Designed to bridge the gap between physical and virtual worlds, this KVM solution is a game-changer for organizations seeking seamless connectivity across various systems, no matter where they are located.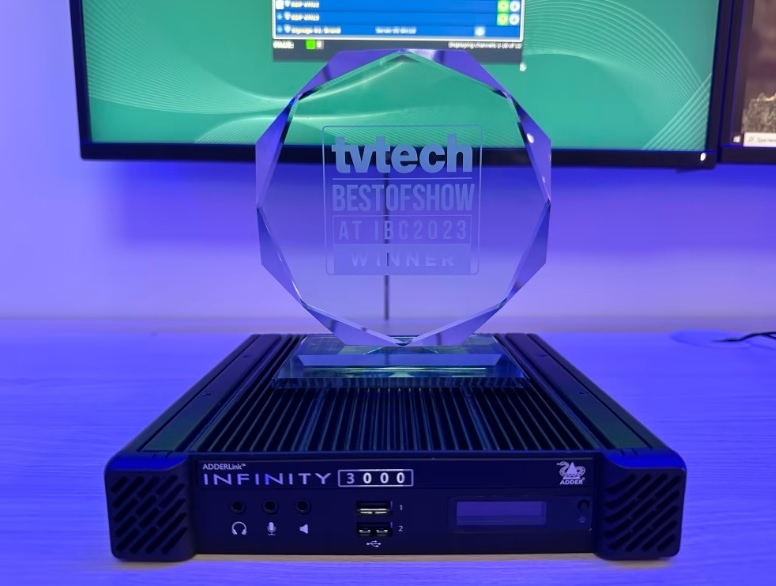 Blackmagic Design announced 2 new hardware control panels that are designed to access the full power of ATEM Constellation HD and 4K switchers. The new ATEM 1 M/E Advanced Panel 20 and 30 models feature the same elegant design as the 2 M/E and 4 M/E Advanced Panels, but in a compact size to fit into any broadcast studio space. The new 1 M/E panels include up to 3 system control LCDs, buttons for control of 4 upstream keyers, 4 downstream keyers and 4 M/E rows as well as a joystick, T-bar fader and more. ATEM 1 M/E Advanced Panels 20 and 30 will be available in October.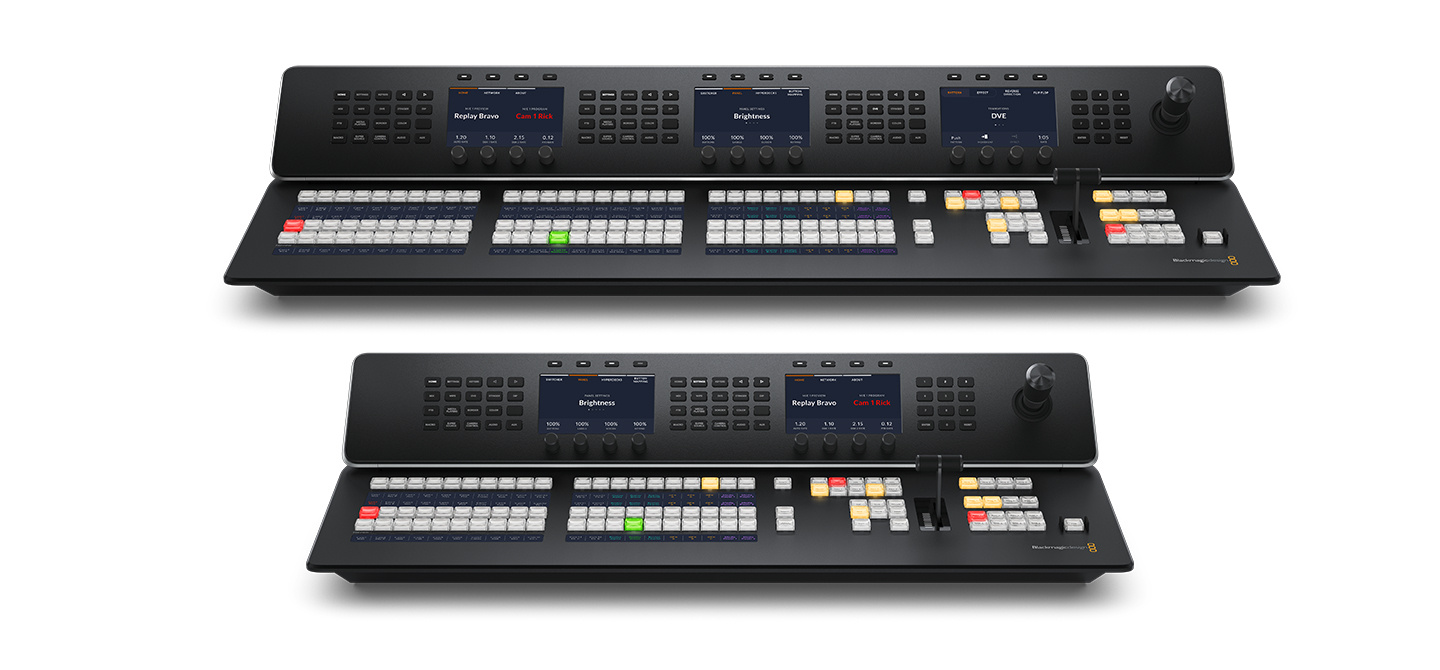 These new 4K/UHD monitors feature wide viewing angle IPS panel, various HDR EOTFs, Wide color gamut, 10-bit color depth, and 
Accurate Color Reproduction by 3D LUT support. Additionally, the LXM series monitors offer the high-performance functions such as HDR-SDR Comparison, 12G-SDI Quad-View and Dual-View display, custom 3D LUT import, SFP to SDI conversion output, Processed monitor output, Waveform, Vector Scope, Audio Phase Meter and more. The LXM monitors are ideal for 4K live production, versatile monitoring in the studio and field location, edit suite and post-production.
More info


The camRade securityCover is a top-tier solution, serving as both an anti-theft measure and a weather-resistant caver. Crafted from durable steel-wire mesh. Hide your setup and make it unattractive for theft. This camera offers complete protection for your rigged camera setup.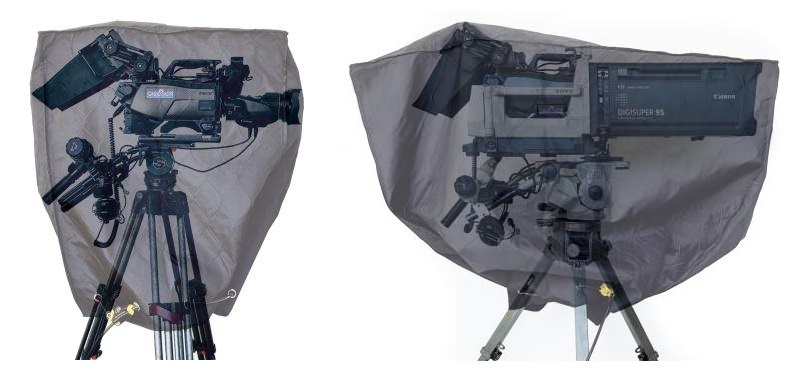 Blackmagic Design announced the Blackmagic Cinema Camera 6K, a new high end digital film camera with a full frame 6K sensor, 13 stops of dynamic range, L-Mount lens mount and dual native ISO up to 25,600 for incredible low light performance and recording to CFexpress cards. This new model features a massive 24 x 36mm 6K sensor, allowing for large format cinema camera image quality in a portable, lightweight body. Blackmagic Cinema Camera 6K also uses an L-Mount for lenses which works with a wide range of new and vintage lenses for a wider range of creative choices. Blackmagic Cinema Camera 6K is available immediately.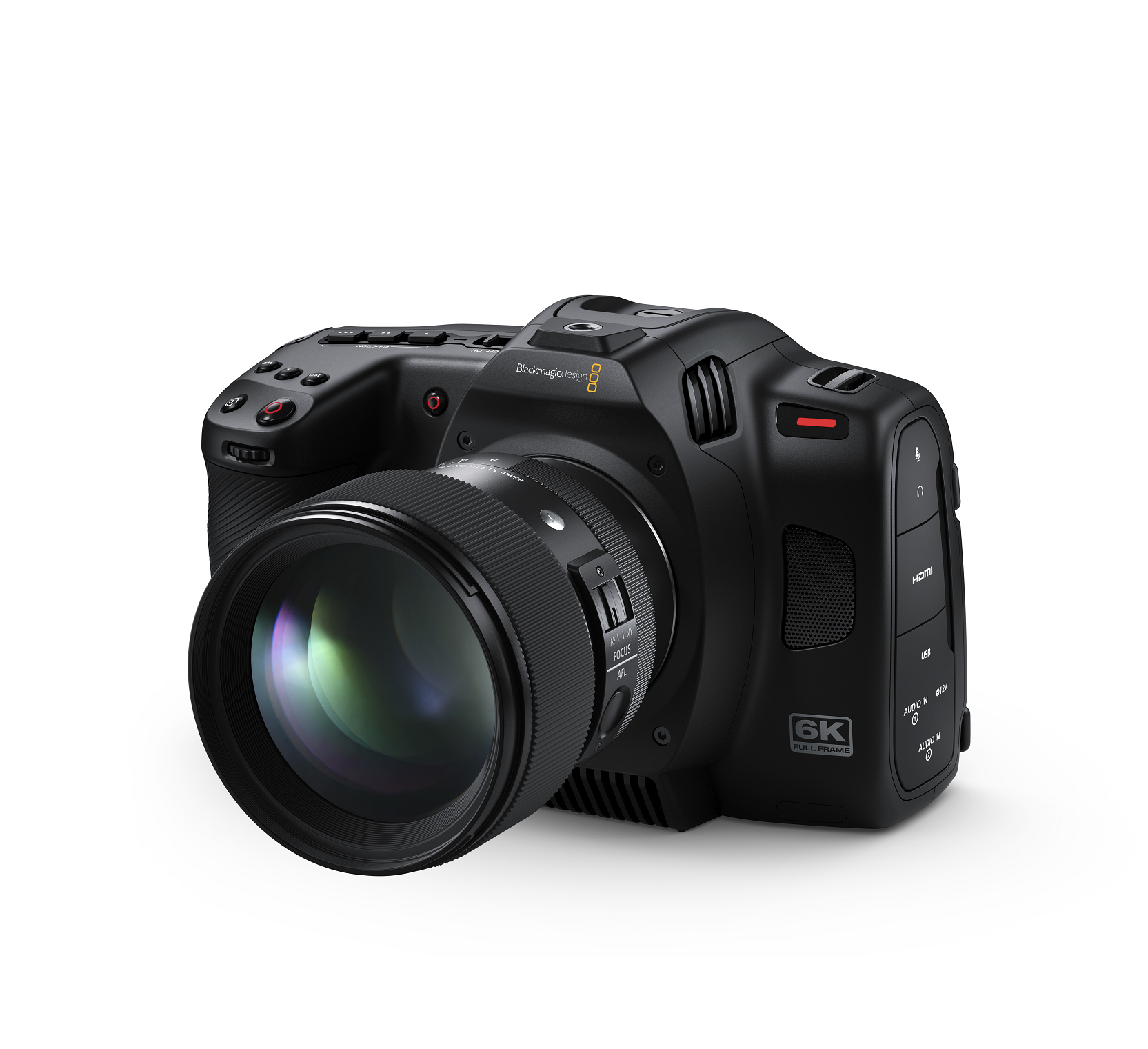 The Hollyland Solidcom wireless DECT intercom system is engineered to provide clear audio. The system uses DECT 6.0 encryption and dual antenna technology to ensure secure and reliable transmission. Making it well suited for a variety of applications including film production, concerts, and public events. Available as headset only solution with or without noise cancellation and as beltpack system.


Blackmagic Design announced the Blackmagic Micro Studio Camera 4K G2, a next generation model of the popular Blackmagic Micro Studio Camera 4K. The new model retains an incredibly compact design of the original model, but now upgraded with a 4K digital film sensor with 13 stops of dynamic range and dual native ISO up to 25,600 for incredible low light performance. In addition, Blackmagic Micro Studio Camera 4K G2 adds 12G-SDI for operation up to 2160p60, and a new USB-C expansion port for recording Blackmagic RAW to external disks as well as network control via Ethernet adapters. Blackmagic Micro Studio Camera 4K G2 will be available in October.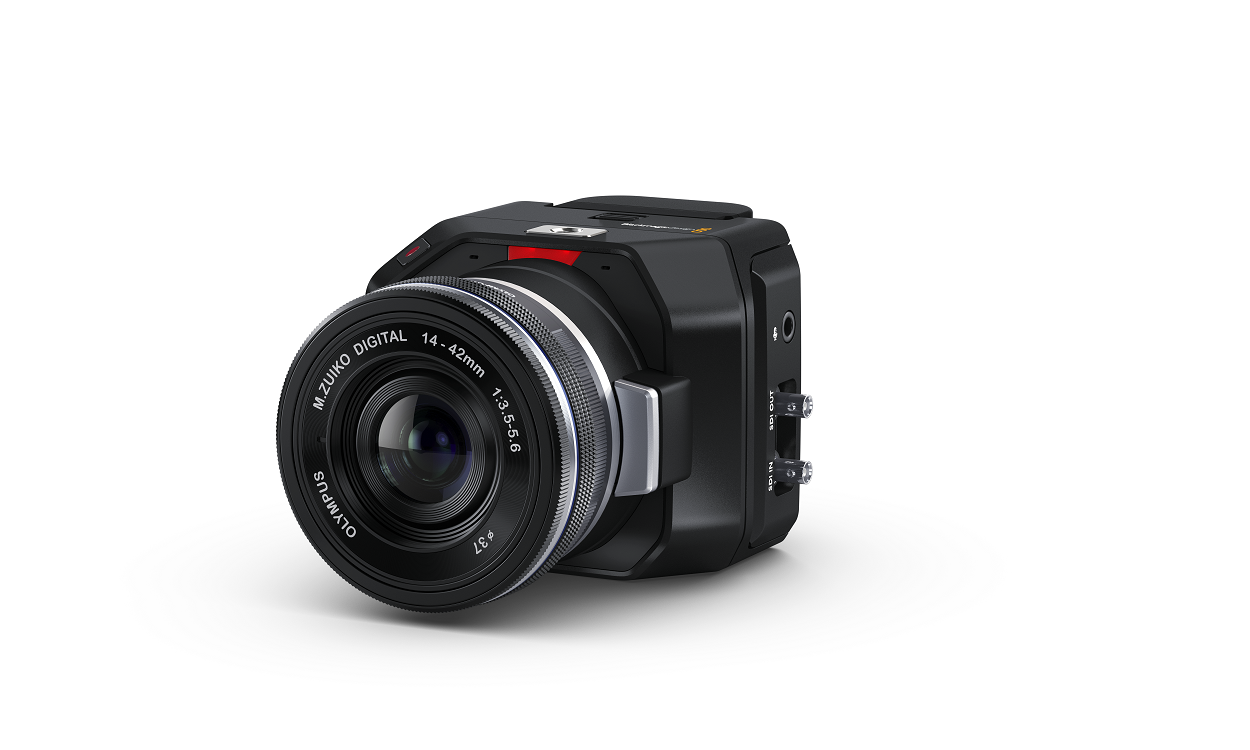 Next-generation 5G mobile video transmitters
Reliable, fast and easy to use. EnGo 3, EnGo 3x and EnGo 3s mobile video transmitters harness the power of 5G networks with superior RF and antenna design. EnGo 3 features four antennas per modem to achieve greater reliability and faster speeds. Contact for more information: [email protected]

The AVN-AH8 multi-channel headphone amplifier is a 1U rack-mount which distributes 2 sets of stereo audio to up to 8 different sets of headphones, fed from the Dante AoIP network. A typical application might be to provide common headphone feeds for guests in a radio studio, coming directly from the AoIP network.


Datavideo HS-4000 is an all-in-one 4K production studio, it's likely designed to provide users with a comprehensive solution for producing and broadcasting content in 4K resolution. The HS-4000 combines features such as video switchers, audio mixers, monitor, recorder, and streaming encoder into a single integrated unit, making it easier for users to create high-quality content without needing to assemble a complex setup from various individual production devices.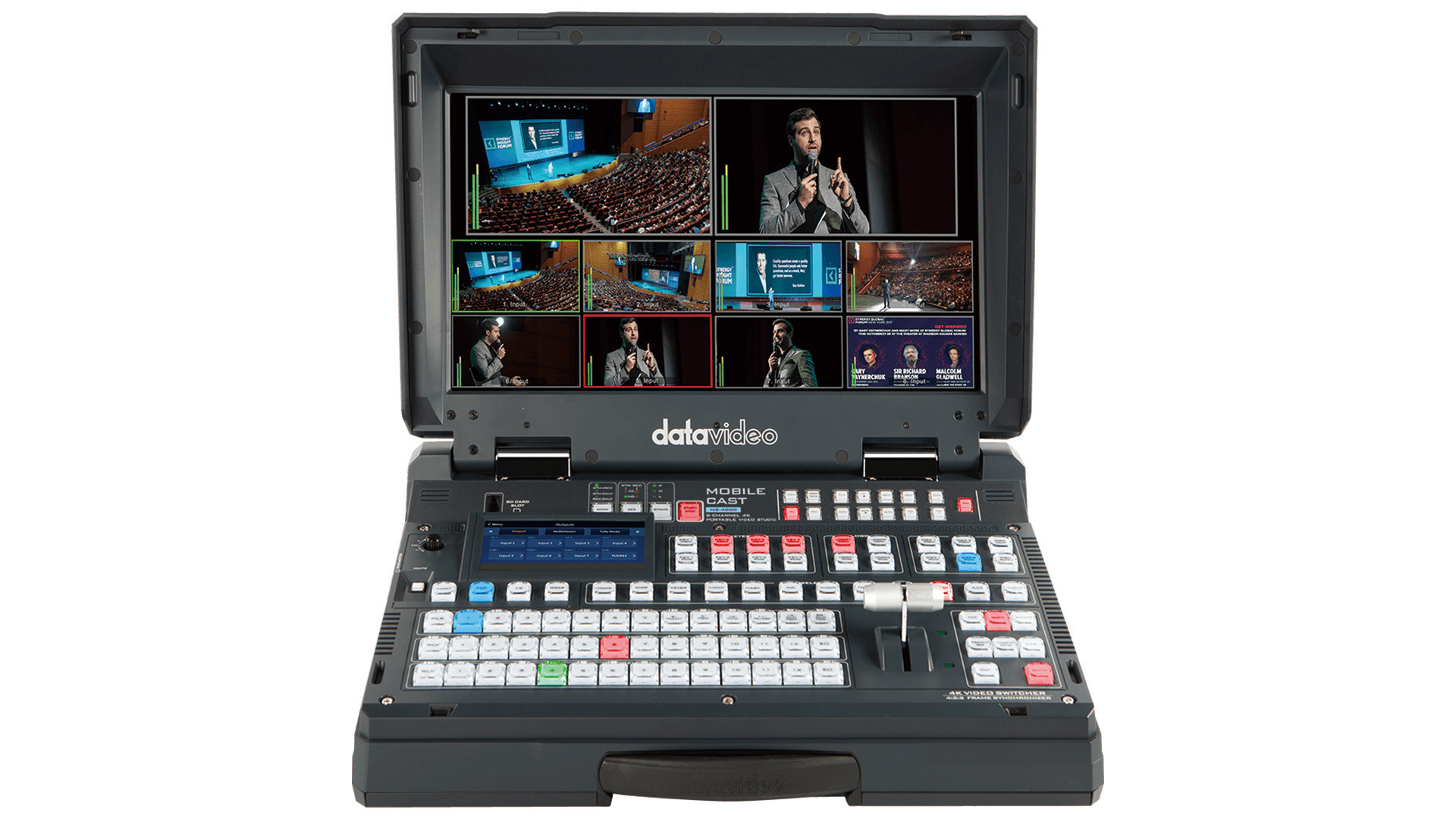 Blackmagic Design announced Blackmagic Studio Camera 4K Plus G2, an updated studio camera model which adds 12G-SDI allowing customers to connect it to SDI based switchers such as ATEM Constellation. The new model also adds support for remote camera control over networks via REST APIs and talkback on 3.5mm headsets. Blackmagic Studio Camera 4K Plus G2 retains the same amazing 4K digital film sensor with 13 stops of dynamic range, MFT lens mount and compact all-in-one design of the previous model. Blackmagic Studio Camera 4K Plus G2 is available immediately.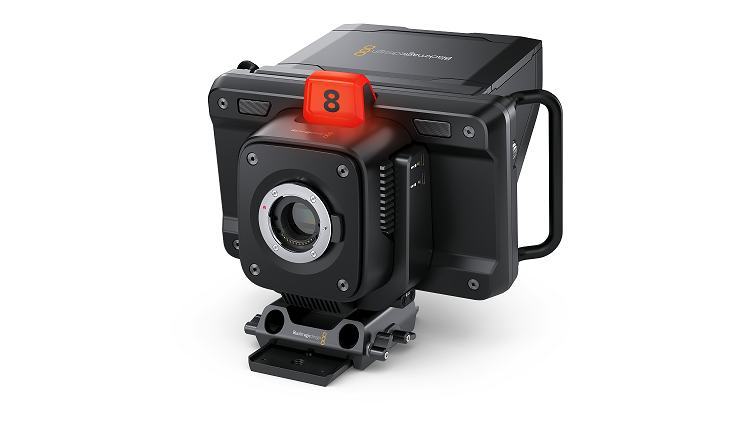 The OG-12G-AM is a 16-channel AES/EBU audio embedder/disembedder openGear card with support for 12G-SDI input and output up to 4K/UltraHD. The OG-12G-AMA is an 8-channel analog audio embedder/disembedder, via 3-pin terminal block connectors that can be set to perform audio input or output functionality. Both cards support 12G-SDI input and output up to 4K/UltraHD, and automatically detect and configure to the input video standard. 


The perfect mini camera for your setup
The Marshall network streaming POV cameras are built around a Sony sensor with over 2.2 million pixels in HD or 8.5 million pixels in UHD. These cameras delivering video performance via HDMI and ethernet IP interface supporting the ultra-efficient NDI|HX3 and SRT.


The AV-HSW10 bridges the gap between IP & baseband video, that make it suitable for a variety of applications from corporate to compact fly-away production kit.
Available in October.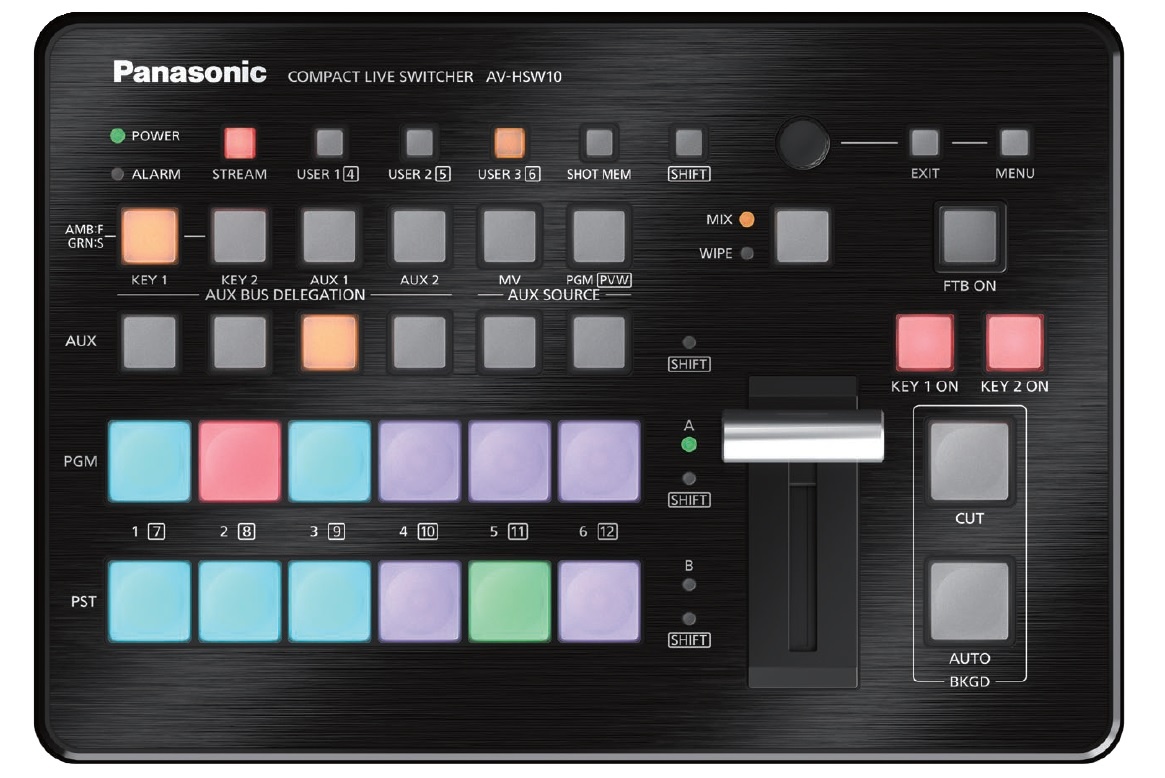 KEY FEATURES:
Up to 9 video inputs and 6 outputs
Video format support for 1080i/p and 720p
NDI®+Alpha, NDI®|HX, SRT, and RTMP support as well as SDI and HDMI
USB Video Class (UVC) port for integration with web conferencing services
2 Keyers (Chroma Key, Lum/Lin Key, PinP); 2x AUX buses
2 freeze frame memories with support for standard image formats
2 analogue audio inputs (L/R or CH1/2) and headphone output
Multiviewer with up to 16 thumbnails
Up/down converter 720p/1080p, p/i conversion
Scaler at the HDMI output
Reference input Black Burst/Tri-Level
Simple, intuitive operation for live production and rugged chassis for worry-free reliability.

Webshop
Check our webshop and discover 4.000+ Pro AV products. After you have create your registration, we check your details and give you access to your personal discount levels. The webshop offers now 38 brands and we are adding products every day. You can use the webshop for just checking some prices or to place direct an order.