AJA ADA4 4 channel audio A/D and D/A convertor
€

761,39

Incl. btw€629,25 Excl. btw
Niet op voorraad, check levertijd

Registreer je in onze webshop. We controleren je gegevens en geven je toegang tot gepersonaliseerde kortingen. Crosspoint geeft je graag persoonlijk advies gebaseerd op meer dan 25 jaar ervaring. Bekijk ook andere digital audio converters in onze webshop.
Lees meer
ECO friendly webshop
Persoonlijk advies
25 jaar ervaring
Meer dan 4.000 producten
Secure payment
Registreer en ontdek je voordelen
---
Specificaties
Beschikbaarheid:
Niet op voorraad, check levertijd
Informatie
The ADA4 is a 4-channel converter that can be configured as a 4-channel A/D, a 4-channel D/A, 2-channel A/D and 2-channel D/A, or an AES synchronizer.
Features
Simultaneous A/D and D/A, or AES Synchronizer
Full-time AES11 low jitter reference output
Up to 4 channels of balanced analog to AES/EBU audio
Up to 4 channels of AES/EBU to balanced analog audio
Supplied XLR breakout cable
AES11/Wordclock/Tri-level Sync/Color Black Reference Loop
Adjustable audio levels
Sample Rate Conversion between 96 kHz and 48 kHz
Dipswitch configuration 5-18VDC Power (included with purchase)
Supplied Breakout Cable
The included breakout cable provides the audio connections for ADA4, allowing 8 channels of AES audio input and output while keeping the overall size of the mini-converter compact and portable.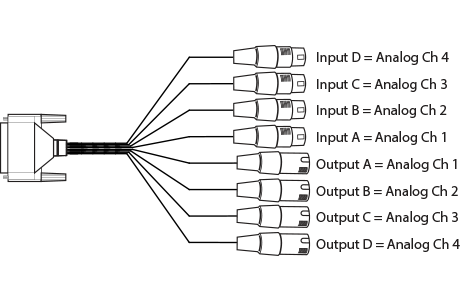 External Sync
ADA4 accepts an AES11, wordclock or video sync/color black reference input for synchronization. Reference input and synchronization are automatic with a passive looping reference as well as a separate AES sync output.
© Copyright 2023 Crosspoint