Blackmagic design ATEM Mini Pro
€

398,09

Incl. tax€329,00 Excl. tax
In stock

Create a login. We check your details and give you access to your personal discount levels. Crosspoint is happy to give you personal advice based on more than 25 years of experience. View other vision mixers in our webshop.
Read more
ECO friendly webshop
Personal advice
25 years of experience
Over 3.000 products
Secure payment
Register and discover your discounts
---
Specifications
Delivery time:
In Stock - First come, First served basis (2 - 3 days)
Information
ATEM Mini Pro Create professional, broadcast quality programs and stream them live!
ATEM Mini Pro makes it easy to create professional multi camera productions because it's portable enough to do a wide range of work, but it's still a powerful broadcast grade switcher! Plus ATEM Mini Pro is easy to set up! Simply connect some cameras and you're ready to start your first live stream! You can use features such as the DVE for exciting picture in picture effects which are perfect for live commentary. There are loads of other video effects too. To live stream, all ATEM Mini models have a USB output that works like a webcam for streaming software, or ATEM Mini Pro can live stream direct via its Ethernet connection. Separate mic inputs make interviews and presentations easy!
Differences from ATEM Mini
Hardware-based H.264 recording via USB C to compatible drives
Direct streaming via Ethernet to popular software platforms such as YouTube Live and Twitch
Built in multiview with stream, record, and audio status
Additional hardware buttons to start streaming, recording, and assign the HDMI output source  
Stream Lectures and Seminars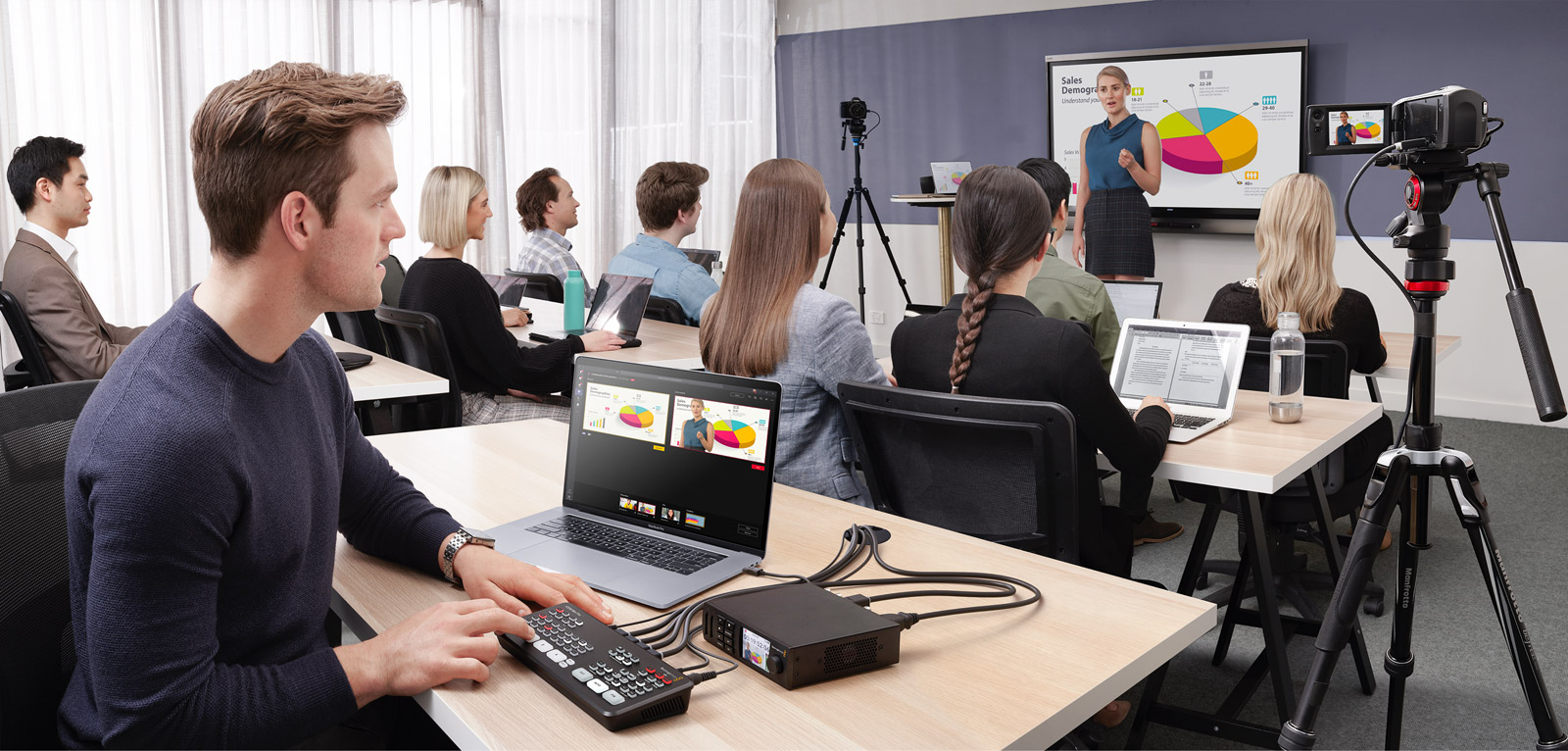 ATEM Mini is ideal for streaming lectures from schools and universities to students around the world. The front panel has all the controls you need so even the lecturer can cut between a camera and a slide show computer. When you need to incorporate content such as video, slides or to show websites or coding, simply plug a computer into the ATEM Mini HDMI input. Because all HDMI inputs on ATEM Mini have standards conversion, it doesn't matter what video standard the computer is using. Just plug it in! The keyers allow school logos, teacher names, or other graphics to be overlaid on top of the image. The future of education is via online video content and ATEM Mini lets you start right now!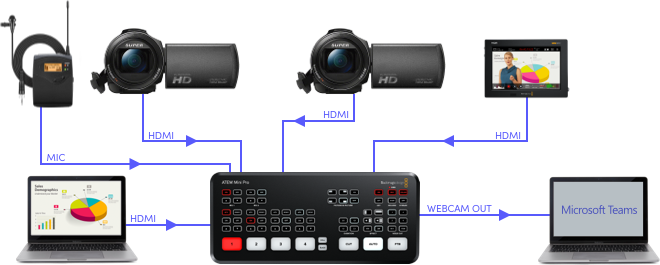 Create online training and educational tutorials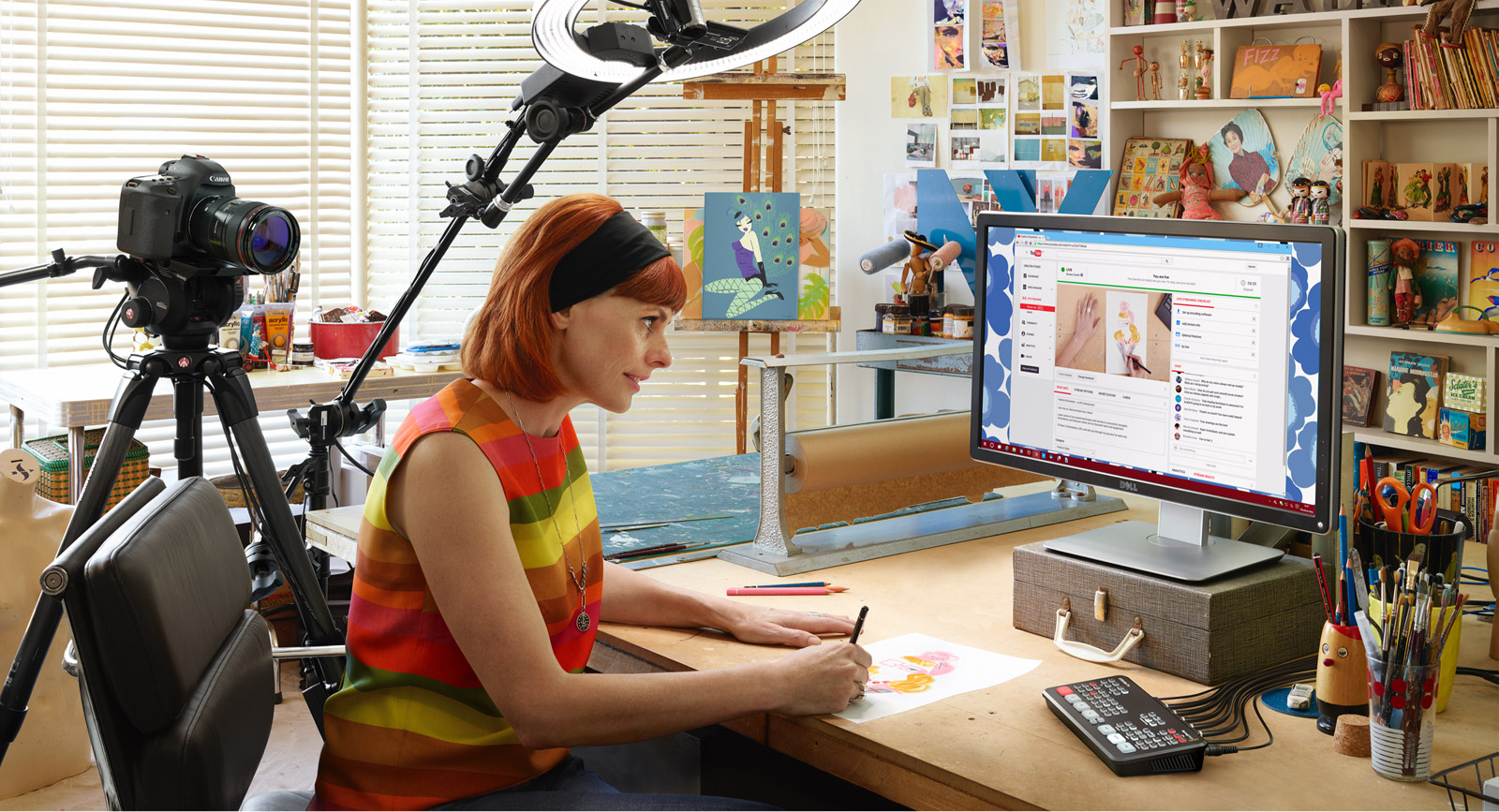 Now you can transform your training room into a production studio! This lets you build an extensive library of training content to take your training online and global. For professional results, use two cameras, one presenter mid shot and one wide shot of the classroom. Use a third camera for a shot of the students! To get perfect quality slides, connect your PowerPoint computer to the HDMI input and then route the HDMI output, with that input selected, to the projector. That's perfect because on ATEM Mini Pro, you don't need to use the HMDI output for program video because you can record direct to USB flash disks. You can even live stream at any time, such as when guest speakers visit!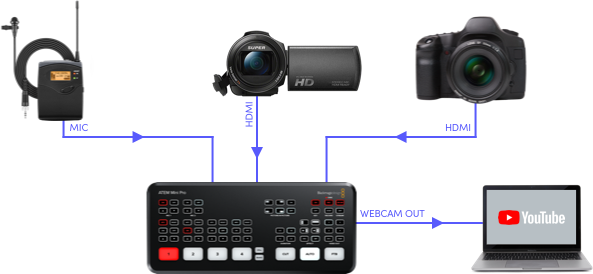 Live boardroom presentations via Skype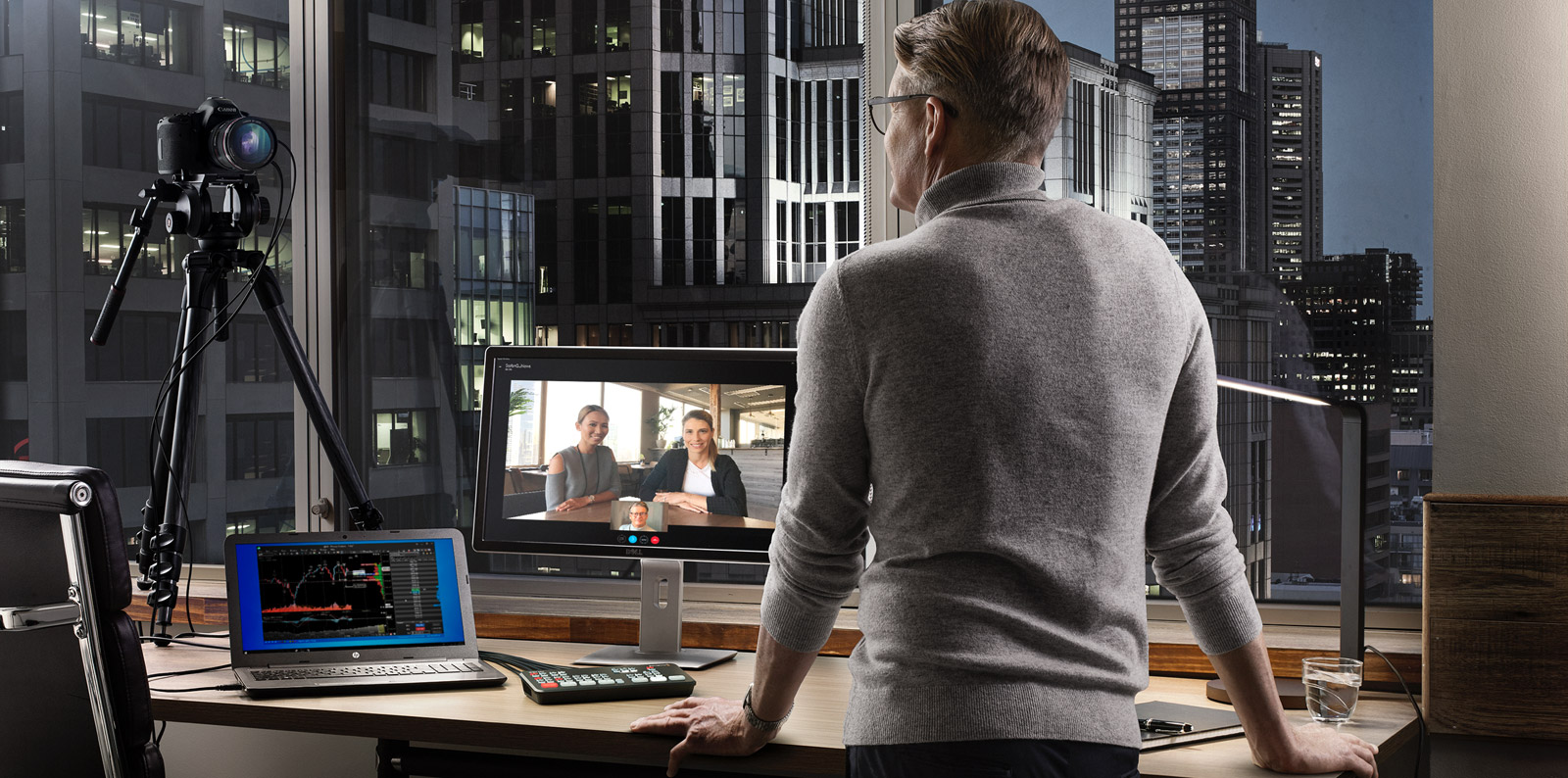 ATEM Mini lets you stream television broadcast quality presentations from the boardroom to employees and investors all over the world via Skype! The intuitive front panel controls make it easy for anyone to create a professional looking switched program from multiple HDMI cameras and a laptop computer running PowerPoint. That's perfect for use in conference rooms because you don't have to be a video expert or need a specialized crew to stream broadcast grade presentations via Skype. There's even a built in DVE which can be used to add a shot of the presenter over a PowerPoint slide. ATEM Mini connects to a computer via USB and Skype will see it as a simple but high quality web camera!
Kickstarter Video Presentations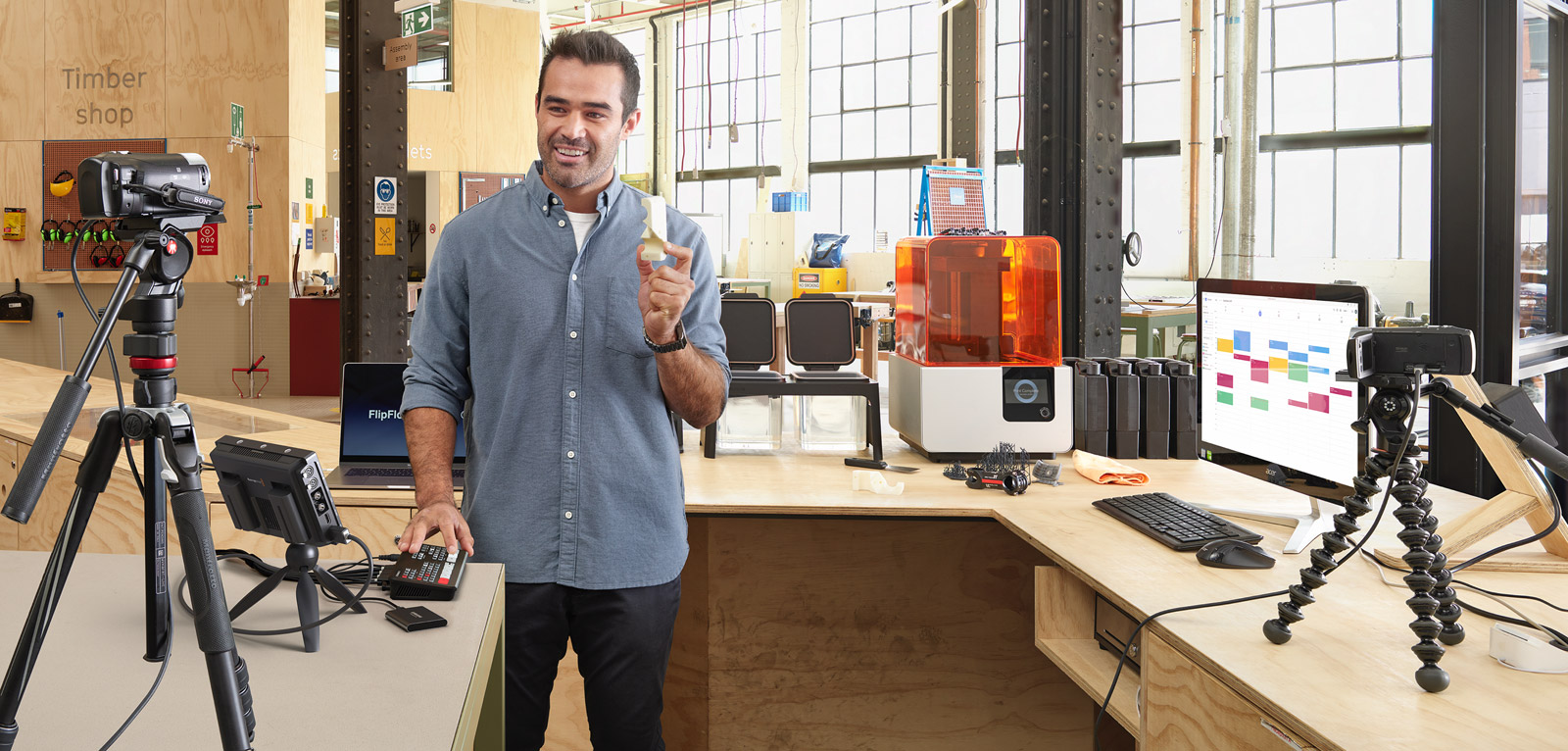 You've got a great idea, now let ATEM Mini help you get funding! There's no better way to entice potential investors than with a professional video presentation to showcase your new product. With 4 HDMI inputs, ATEM Mini is big enough for multiple cameras to cover your pitch, plus a close up of your product plus a computer with presentation slides. You can also use the keyers to add callouts or graphics to highlight features of your product. Best of all, because it's so easy to use, ATEM Mini makes it possible to create broadcast quality video by yourself and on a tight budget! You can even stream your presentations live to investors via Skype, or share it on sites such as Kickstarter!
Broadcast worship services via the internet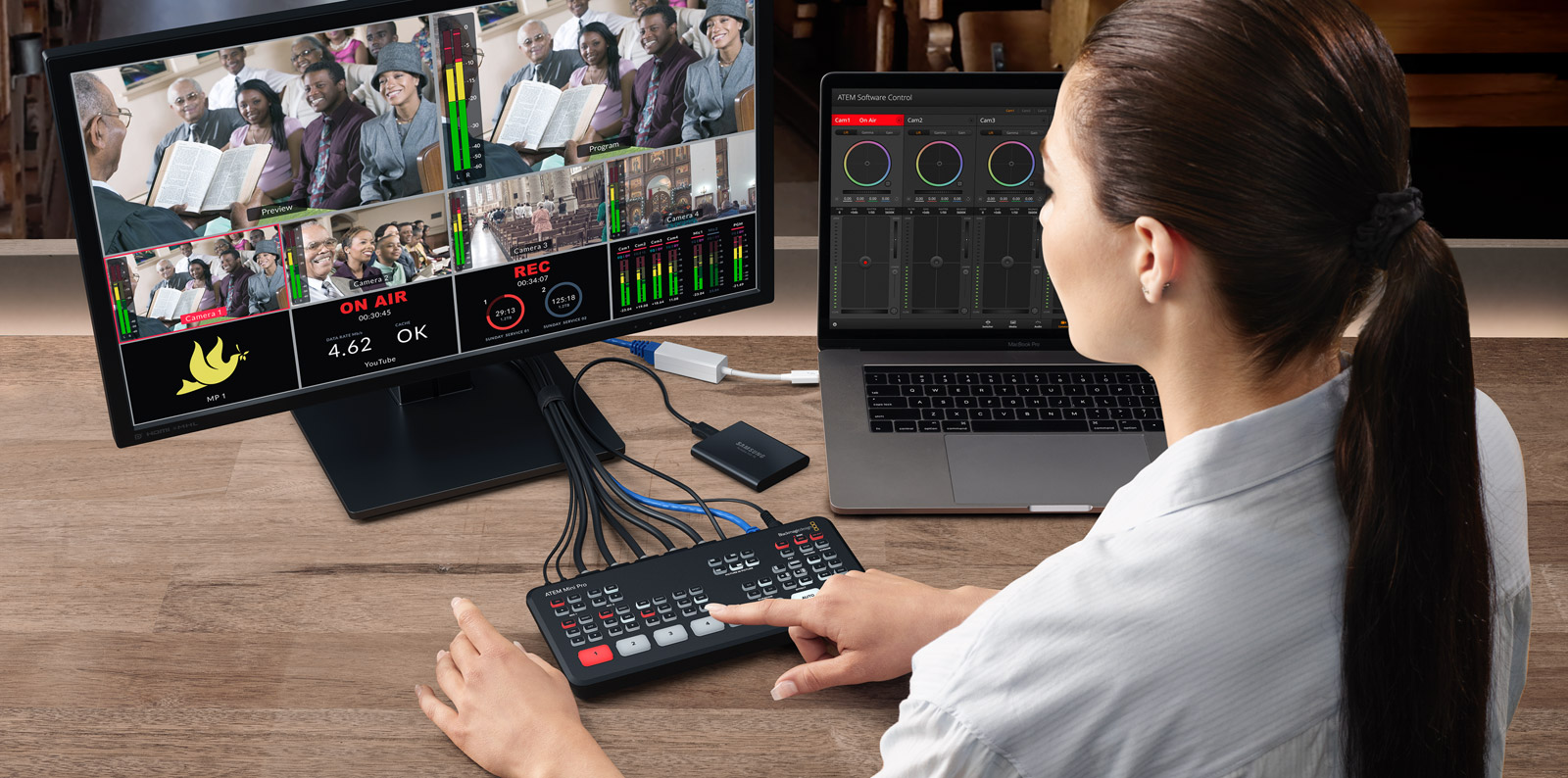 ATEM Mini makes it possible for congregations of all sizes to spread their message by recording broadcast quality television programs. That's because it's the first live production switcher that a volunteer from the congregation can use! It's affordable so even the smallest congregation can use video to engage with their community. Simply connect HDMI cameras for shots of the minister and congregation, then connect a mic for the minister and you are ready to start recording. You don't have to have a big budget or a huge staff! Although you can reach a global audience by streaming and uploading the video, you can also set up previous sermons for playback on a projector at other times.

Stream eSports and gaming competitions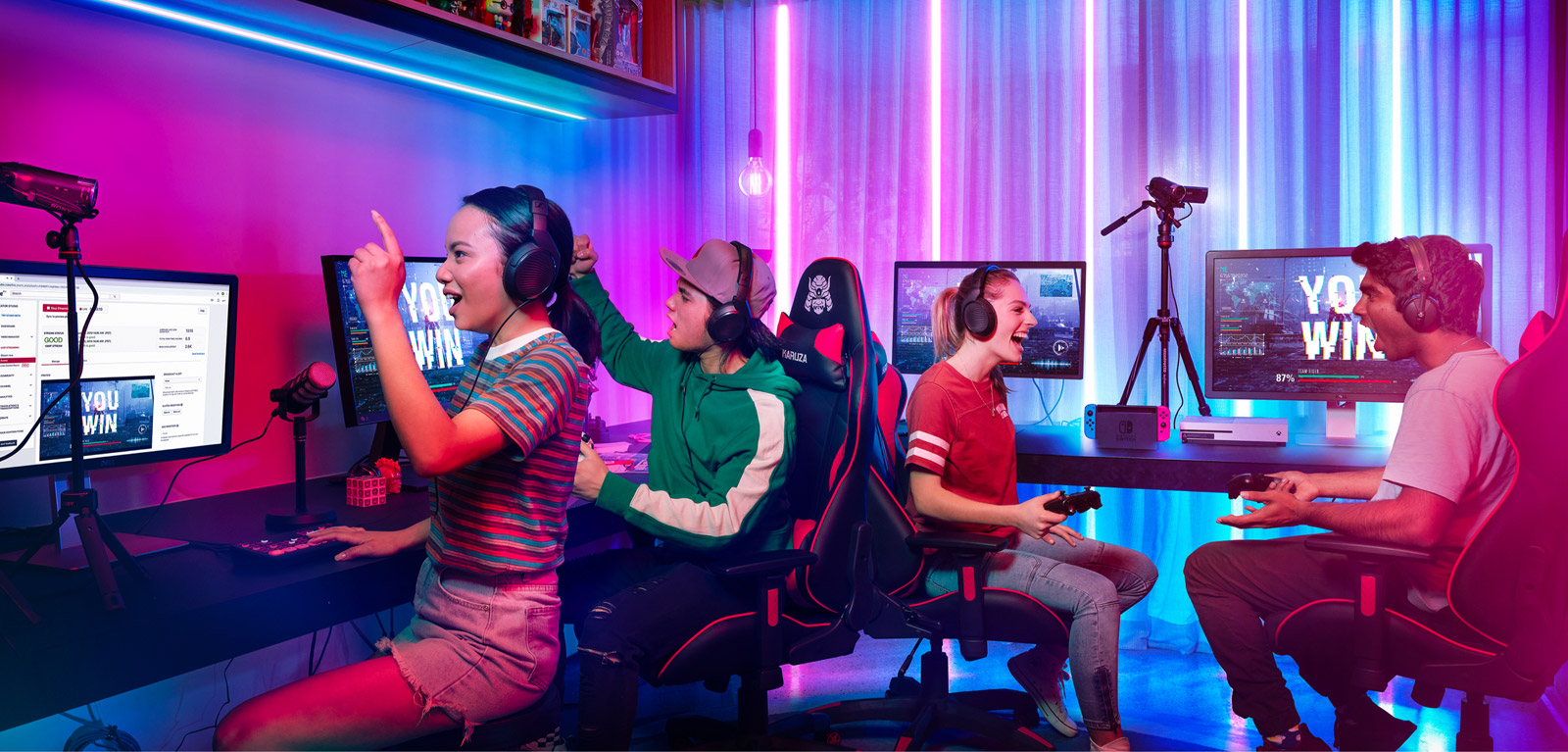 Live streaming eSports and gaming competitions is an exciting way to connect with other gamers. ATEM Mini lets you turn those competitions into professional quality streaming shows that you can publish via platforms such as YouTube Live and Twitch. You can connect multiple game consoles, plus a few cameras, then switch between sources with the touch of a button. ATEM Mini features a DVE for adding player views over game screens, plus there's a keyer for removing green screens. Imagine superimposing yourself over the game! There's also a zero latency direct input connection for game consoles, and mic inputs for commentators or player dialog.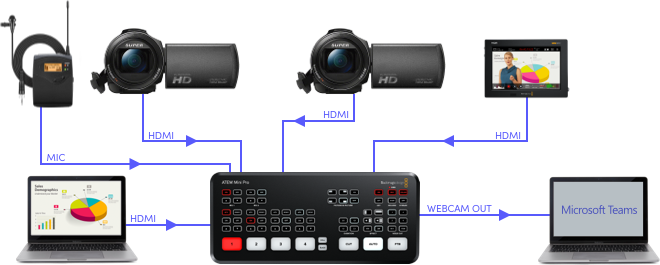 Live Sporting Events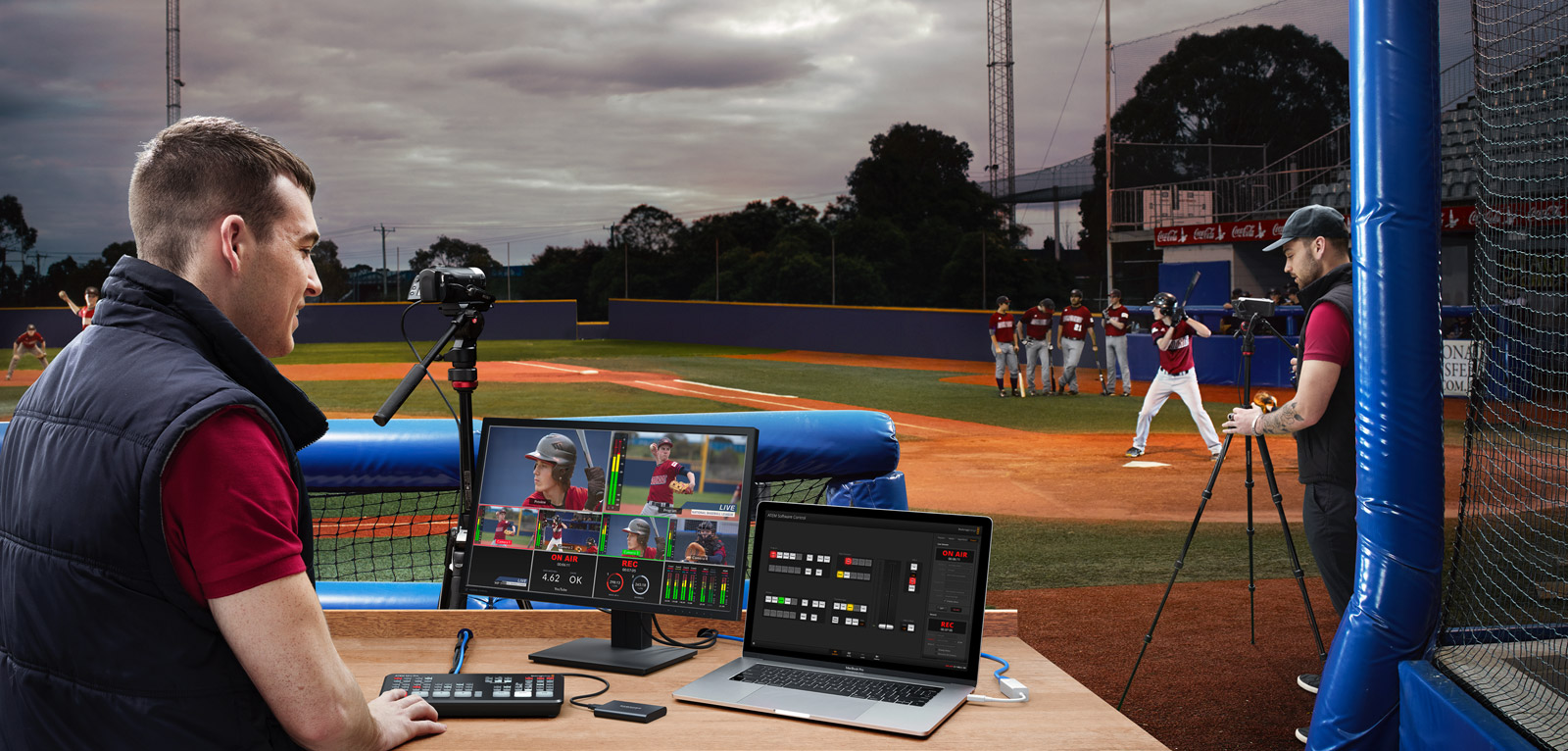 ATEM Mini lets you create big league looking programs from your own sporting events! Whether you're playing table tennis, bowling or baseball, ATEM Mini lets you connect multiple HDMI cameras so you can capture the match from multiple angles and see all of the action. Add an HDMI laptop with the free ATEM plugin for Photoshop and you'll be able to update graphics templates and send them direct into the switcher from Photoshop. Then you can use the built in downstream keyer to overlay the graphics on top of the game, just like a professional sports broadcast! With ATEM Mini, it's easy for you and your friends to create broadcast quality live sports programming and stream online!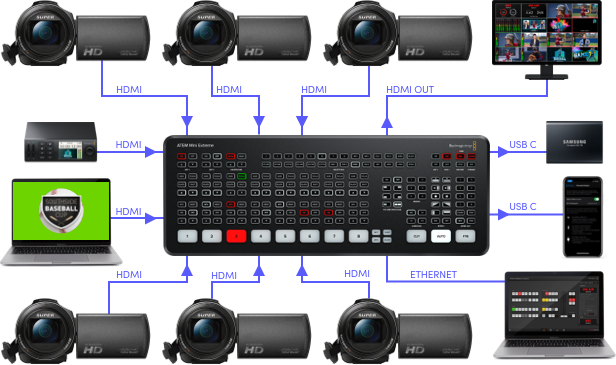 Create Music Videos Live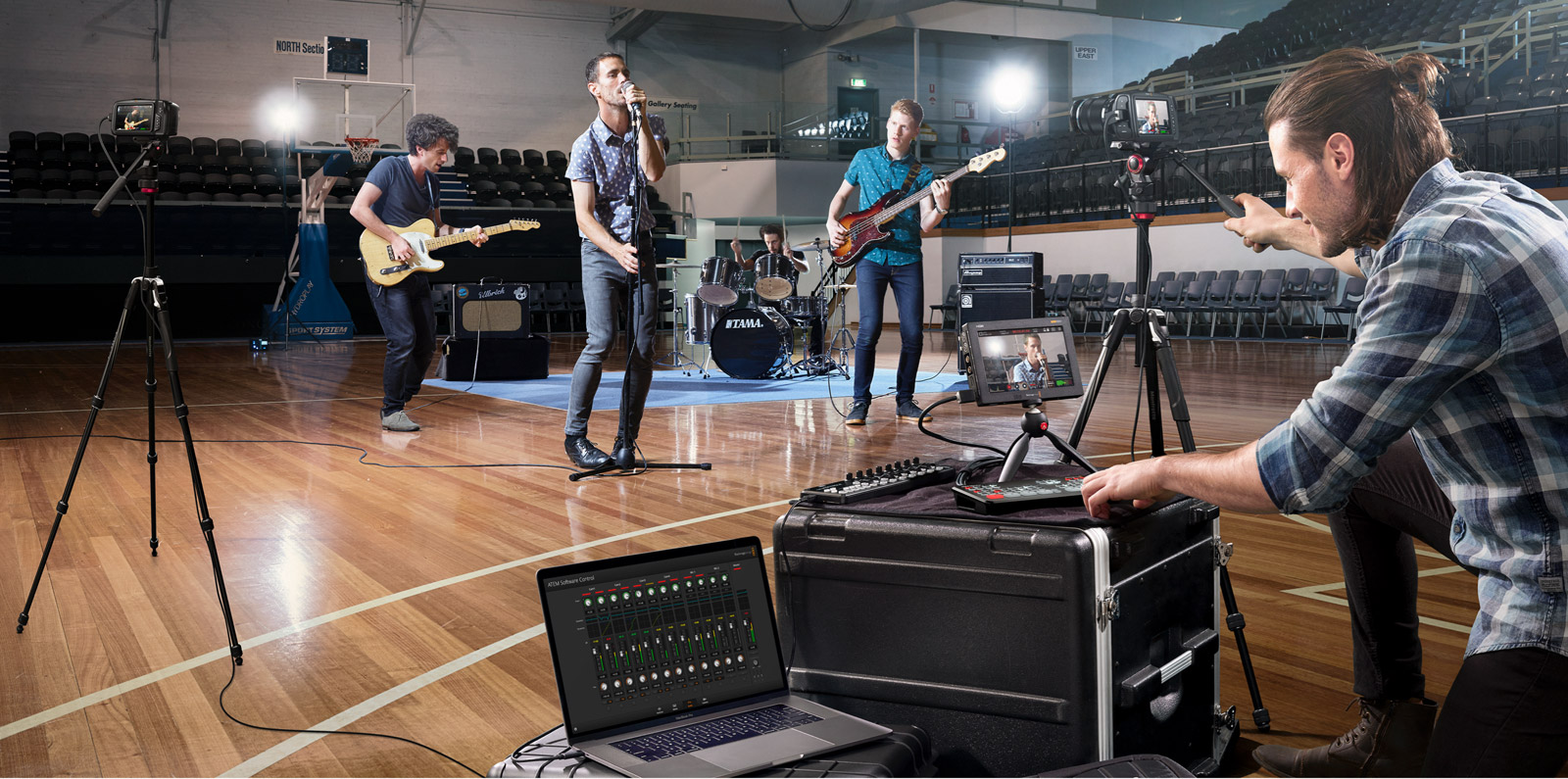 Now it's easy for bands to create music videos and to live stream concerts. Simply set up multiple cameras, allowing a wide shot of the group and close ups of each performer. With a built in Fairlight audio mixer featuring 6 band parametric EQ, compressor and limiter, you'll get great sound. ATEM Mini has enough effects and keyers to create wild looks by blending in crazy animated sources such as the iTunes visualizer. Plus Blackmagic Pocket Cinema Cameras include color correctors so you can get dramatic and cinematic visual styles! ATEM Mini makes it easy to record music videos while also cultivating your band's fanbase by streaming your live concerts to YouTube Live or Facebook.